If you could choose any saint and bring them back down to earth now,who would it be and why? This is a game we sometimes play at teatime in our house and it usually ends in an argument. A lot of the time, we get requests for wonder worker saints, like Joseph of Cupertino and his levitating. But since this is my blog it's a bit easier for me to have the last word today.
I would get Saint Thomas Aquinas back down here as fast as possible. The first person I would set him up to talk to would be Richard Dawkins...live on air!!! Likethe Dumb Ox meets a flea! Maybe he wouldnt be the best conversationalist...but can you imagine the blogging?!! Move over, Father Z!! Anyone who doubted that reason and faith were not compatible would soon be put straight. He would be convincing in his appeals to atheists, scientists academics, religious all alike.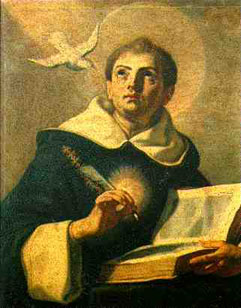 Well that's what I'd like, of course. In reality, if he could come back, he would probably be shocked at our sound bite culture and lack of time to discourse in a reasonable way. would he be overwhelmed by all the secular media, or would he shine his light on it and help us all see clearly again?
Well, of course, all this is only a game and Blessed John Henry Newmans motto, Heart speaks unto Heart seems better suited to our times. Is the cold light of reason just bit chilly for us? but then I think of all those martyrs of the Reformation, debating for hours with their torturers the finer points of their faith, subjected to horrible suffering and still able to reason and discourse to change men's minds. The book I am reading has this to say about them
"And it is a reflection on our own age, and our lower regard for truth and human intelligence, that we resort instead to public relations campaigns and other techniques of behaviour modification to win people's hearts...let their heads be where they may"
Of course, this isn't a game at all and st Thomas Aquinas is actually more alive now than he ever was when he was down here....so please shine that cool clear light of reason on our dark world, St Thomas don't ever stop praying for us!!! (Looking forward to celebrating you all over again on March 7 th!).